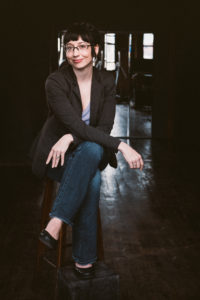 Incurable word-slinger.
Cautionary optimist
Cheeky anthropologist
Amelia Aldred is a curious creative and writer of fiction and nonfiction, based in Chicago, Illinois.  Amelia's short stories, essays and articles has been featured by Metaphorosis Magazine, Flash Fiction Online, South Side Weekly, Chicago Literati, Neutrons/Protons, Offbeat Home, the anthology Undeniably Indiana (Indiana University Press), and Otherworld Theatre.  She hosts The Labyrinth and the Thread, a podcast that explores creativity and mental health. She has a decade of experience copywriting, editing and storytelling for nonprofits and her public relations work for legal aid organizations won the Publicity Club of Chicago's 2021 Silver Trumpet Award. She received her BA in anthropology from Earlham College and her MA from the University of Chicago. When she's not telling stories, Amelia spends her time throwing nerdy costume parties, collecting skeleton keys, and taking long walks with her imaginary dog.